Event Details
COVID-19 Drive-thru Vaccine Clinic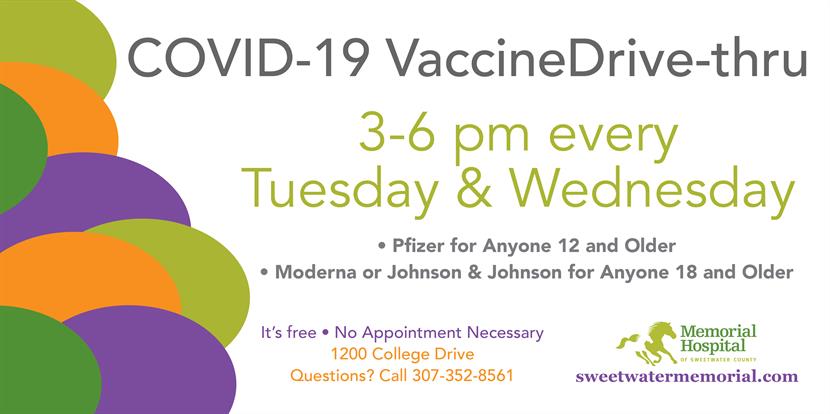 About This Event
Details:
Sweetwater Memorial's drive-thru COVID-19 vaccine clinic is now open from 3-6 p.m. every Tuesday and Wednesday under the awning in front of the hospital at 1200 College Drive. Vaccines are free and no appointments are necessary. For more information to schedule a shot party, call 307-352-8561.
COVID-19 vaccinations are available to area residents for anyone 12 and older for Pfizer-BioNTech or 18 and older for Moderna and Johnson & Johnson's Janssen.
Sweetwater County Public Health offers vaccines on a walk-in basis from 9-10 a.m. weekdays. Afternoon appointments can be scheduled. Call 307-922-5390.
Various area healthcare agencies and pharmacies also offer COVID-19 vaccines. For more on this and other options, go to sweetwatermemorial.com and click on the Coronavirus Update page.
Registration
Price:

Free

Registration Instructions: