Meet the Team: Bethany Bettolo
Category: Community
Posted On:
Written By:

Deb Sutton, Sweetwater Memorial Marketing Director
Meet the Team: Bethany Bettolo, Nursing Informatics Specialist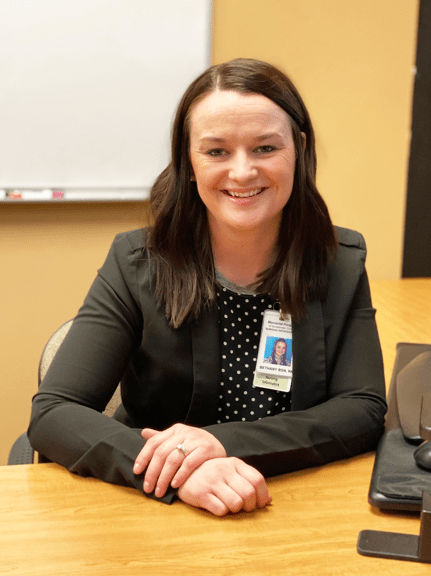 When Bethany Bettolo tells people outside of the healthcare industry what she does for a living, it's not unusual for her to get a blank stare in return.
Bettolo, who has worked in Memorial Hospital of Sweetwater County's Nursing Informatics Department since 2010, said the best way to explain what she does is to quote the American Nurses Association Second Edition Nursing Informatics Scope and Standards of Practice, Page 1:
"Nursing Informatics (NI) is the specialty that integrates nursing science with multiple information and analytical sciences to identify, define, manage and communicate data, information, knowledge and wisdom in nursing practice. NI supports nurses, consumers, patients, the inter-professional healthcare team and other stake holders in their decision-making in all roles and settings to achieve desired outcomes."
"To make it simpler, we take the nursing process and apply it to technology," Bettolo said.
Bettolo has worked at Sweetwater Memorial since 2007, starting as a Medical/Surgical Floor nurse "right out of nursing school." She transitioned to the hospital's Intensive Care Unit Step-Down Unit.
In 2010, the hospital embarked on a journey to implement a new electronic medical record. Bettolo was asked to assist with the clinical side. "Currently, I care for patients indirectly by using my expertise in the Clinical Informatics Department," she said.
Bettolo said she enjoyed bedside nursing and impacting the patients she had the pleasure to take care of.
"I am now augmenting care behind the scenes – training staff how to utilize the electronic health record, building an order set or documentation to assist clinical staff with their workflow or assisting with new processes or workflows at MHSC," she said. "In the end, we are all here for our patients. And, everything we do truly affects the patients one way or another.
"I, along with my coworkers in our department, give the front-line staff – the end users – tools to help take care of patients," she said. "That leads to better patient outcomes."
When she's not at work, she spends time with family and friends.
"I enjoy taking my daughter on trips to experience new things," she said. "We love to camp, ride our side-by-side, and hang out and do crafts when I have time."
She also enjoys reality and medical television shows.
Some of her favorites: "The Bachelor," "The Bachelorette," "Vanderpump Rules," "Grey's Anatomy" and "Chicago Med."
"I grew up watching 'Days of Our Lives' with my mom, and I still watch it now," she said. "You've got to love DVR, so I can binge watch these shows at night or while my daughter naps."
MEET THE TEAM is a feature highlighting the more than 500 people who work at Memorial Hospital of Sweetwater County. To find out more about this weekly profile and area healthcare information, go to sweetwatermemorial.com.