Here are your 2020 Paint the Town Pink winners
Category: Community, Announcement
Posted On:
Written By:

Deb Sutton, Sweetwater Memorial Marketing Director
Congratulations to Bi-Rite in Rock Springs
and Golden Hour Senior Center in Green River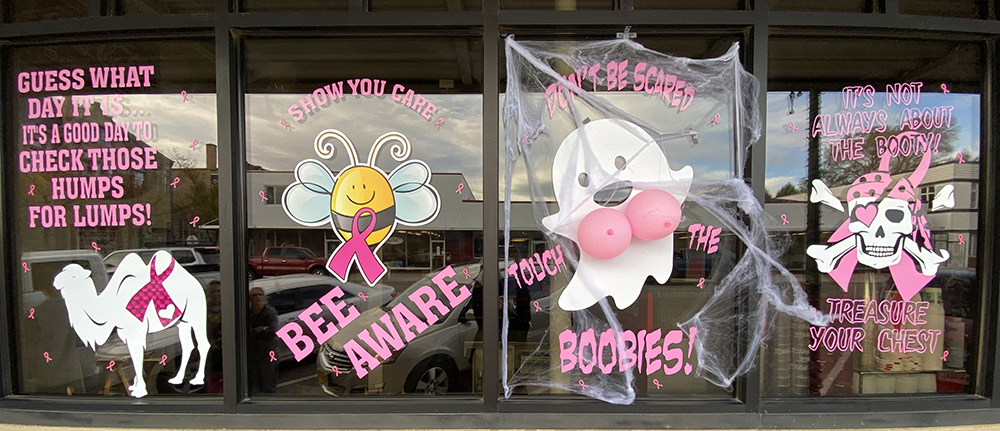 Bi-Rite at 409 Broadway Street won this year's Rock Springs Paint the Town Pink Contest with its four front-pane windows decorated with a camel, a bee, a ghost and pirate, along with the slogans "Guess what day it is… It's a good day to check those humps for lumps," "Show you care, Bee Aware," "Don't be scared, touch the Boobies!," and "It's not always about the booty, treasure your chest."
Golden Hour Senior Center at 555 Uinta Drive won this year's Green River Paint the Town Pink Contest with its four front-pane windows decorated in pinks and white and the words "Keep the lumps out of your cups."
Thank you to everyone who decorated their stores
Bi-Rite in Downtown Rock Springs and Golden Hour Senior Center in Green River are this year's winners of the Paint the Town Pink Contests.
Memorial Hospital of Sweetwater County's Sweetwater Regional Cancer Center sponsors the contests annually to encourage businesses in both communities to decorate their storefronts during Breast Cancer Awareness Month.
This year, 15 Rock Springs businesses and 10 Green River businesses competed in separate contests.
"It was quite the battle," said Deb Sutton, Sweetwater Memorial spokeswoman. "There was some neck-and-neck competition during the 36-hour voting window on the hospital's Facebook page.
"By Thursday morning, the tides had turned significantly in the Green River contest, with Golden Hour overtaking Trona Valley," she said. "In fact, there was only a two-point difference.
"In Rock Springs, Bi-Rite was in it to win it this year, holding the lead throughout most of the contest," she said. "There were quite a few challengers in the last hours of the contest, but none were able to top Bi-Rite, with its front window display."
Sweetwater Memorial thanks the hundreds of community members who voted in the contests. It also encourages everyone to take some time in the next few days to drive around and drop in on all of the businesses, not just those who entered the contest, that are displaying pink this year.
If you'd like to congratulate the winners in person, stop by either of the city council meetings on Nov. 3. Trophies will be awarded at 7 p.m. by the Cancer Center team and Mayor Tim Kaumo in Rock Springs and Mayor Peter Rust in Green River.
"All 25 entries displayed so much creativity and imagination, including last year's winners Murdoch's Ranch & Home Supply in Rock Springs and Complete Chiropractic in Green River," Sutton said. "We thank all of the businesses who decorated their stores this month to help raise breast cancer awareness and prevention. We can't wait to see what everyone comes up with next year."
To see all 25 entries, check out Sweetwater Memorial's Facebook page or click on the News tab at sweetwatermemorial.com.
Photo album for the Rock Springs contest: https://www.facebook.com/media/set/?vanity=MHSChealthcare&set=a.3384168024992113
Photo album for the Green River contest: https://www.facebook.com/media/set/?vanity=MHSChealthcare&set=a.3384334571642125