Hospital CEO delivers The McKenzie Home banquet keynote address
Category: Community
Posted On:
Written By:

Irene Richardson, MHSC CEO
Good evening.
I'm Irene Richardson and I'm the Chief Executive Officer at Memorial Hospital of Sweetwater County and I am honored to be here tonight to help support such a wonderful cause.
Well now, wait a minute, in addition to being the CEO of our hospital,
I'm also a daughter,
and a sister,
and an aunt,
a niece,
a friend,
a mentor,
a girlfriend,
an ex-wife,
a mom, and more specifically, a single mom of two incredible young men.
First of all, I would like to thank Debra Moerke and her Board for bringing us all together this evening to help make their vision of The McKenzie Home a reality.
When I heard about The McKenzie Home, I was intrigued because, as a single mom, it spoke to me.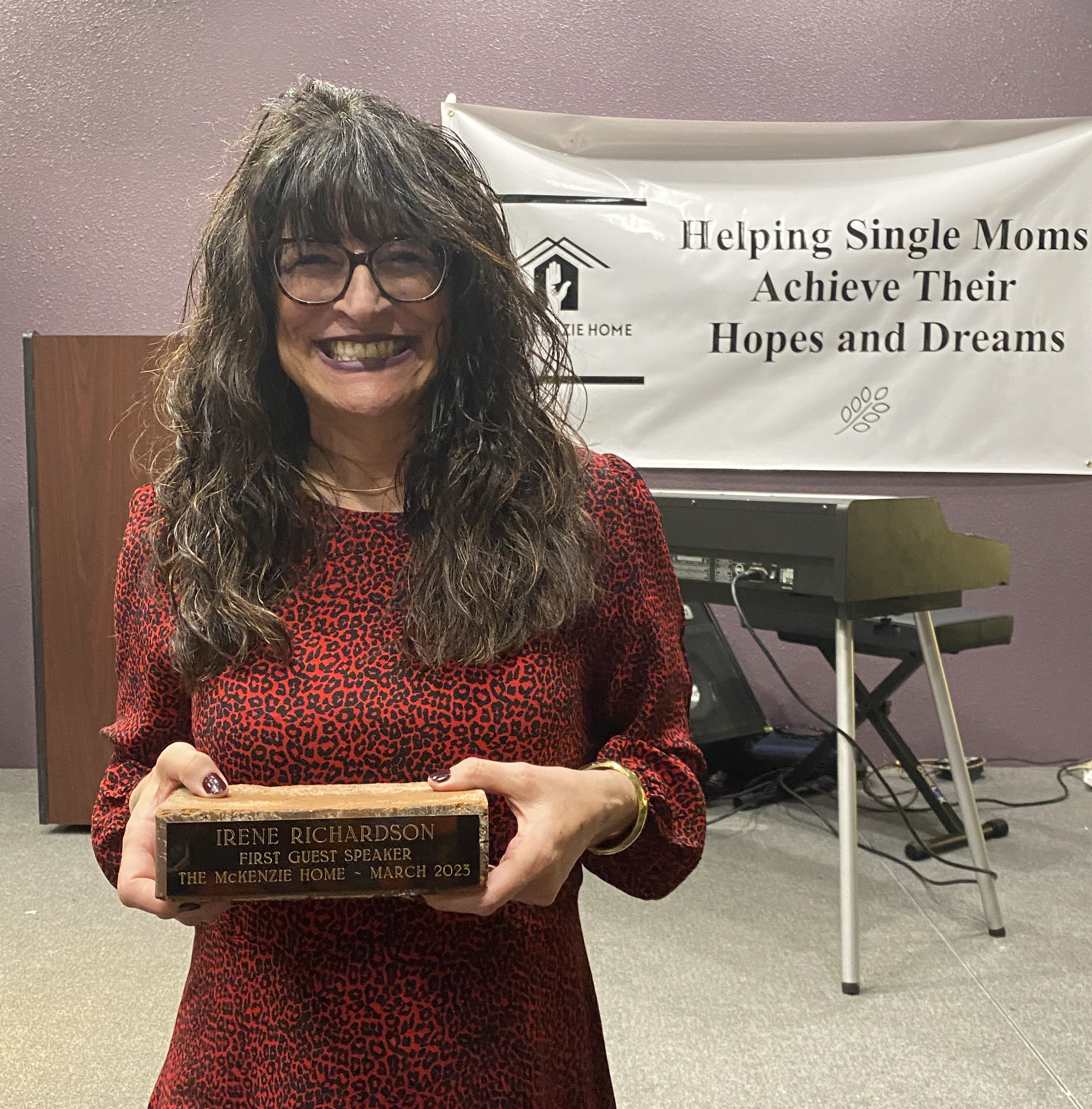 Having a community help single moms and their kids so everyone can benefit – what a better way to give back to the community than by honoring such a historic landmark by converting the old Washington School site into The McKenzie Home. That building is so near and dear to so many of us and what a great way to honor that building and site. My own family has so much history there. That's where my dad and my uncle went to school, that's where my brother and sister and I went to school, and my mom worked there in the lunch room for so many years. So many memories of that school, from playing on the front lawn waiting for school to start, to playing kickball on the playground, to my sister breaking her arm, playing what sounds like a pretty violent game of red rover, or going down the fire escape slide.
Such a wonderful site for such a beautiful project, The McKenzie Home.
Everyone gives and everyone gives back. The community helps single moms and their kids bridge the gap so they can adjust and get the help they need. And in turn, they can go out on their own and give back to the community.
That's a great thing and we have a perfect location for it and the perfect community for that. I'm a big quote gal and this reminds me of a quote that I use quite a bit when I talk about our community.
Coretta Scott King once said "The greatness of a community is most accurately measured by the compassionate actions of its members." Very fitting for tonight, don't you think? 😊
I was so honored to be asked to speak tonight, because I believe in the what The McKenzie Home can do for single moms and I also believe in the benefit of helping others who are in need.
I think the best way for me to help you all understand why I'm so passionate about The McKenzie Home, so passionate about being a single mom and so passionate about helping those in need, is for me to tell you some stories.
My mom and dad were both born in Greece. They immigrated to the U.S .in 1957 and gained United States citizenship immediately. My mom left her entire family; including her parents, four siblings and aunts and uncles and cousins to come to the United States. While most immigrants settled in Boston, New York, or Pennsylvania, fortunately, my parents made wonderful Wyoming their home. My family was perfect; mom, dad, big brother and twin sister and life was good.
And then the unthinkable happened. On a hot summer day in June of 1970, tragedy struck our family and our lives were forever changed in a split second. When my sister and I were just 6 years old and my brother was 12 years old, my dad died. Instantly, my mom went from being a stay-at-home mom with a husband and a father of three kids, to becoming a 35-year-old widow with no job and a single mom to three small children.
It was a very sad and confusing time for all of us, but my mom was determined to take on both roles of mom and dad and give us the best life she could. Both roles, that's a lot. I saw another quote and it reminded me so much of my mom. R.P. Falconer once said, "Heavy is the head, forced to wear two crowns."
My mom found work immediately, and she worked hard and endlessly to provide us with the best life she could. She was so strong. She never cried. She never complained and she never gave up.
Luckily, even though her family wasn't here, she was not alone, and she did have help. Like I said, even though my mom left behind her whole family in Greece, she found a new family here in Sweetwater County. Her network included her amazing friends in the Greek families that she met here, the Greek Orthodox Church members, my uncle, her neighbors and the community.
And I think it's interesting that the Greek Orthodox Church group that helps people in need is called the Philoptochos Society. Philoptochos is a Greek word that means "love of the poor" whether it's poor in wealth, poor in spirit, poor in health, poor in luck, etc., it is help and compassion when and how people need it most.
She wanted desperately to take care of her kids, and her determination and support system helped her do that.
My mom was a single mom and she was amazing. She wanted us to have a good life and she did whatever she could to support us and to help us. She taught us how to be respectful, humble, grateful and kind. She made sure we studied hard and took advantage of every opportunity to learn. She drilled receiving a higher education into our heads so much that I thought it was a requirement to go to college, just like we had to go to high school.
She made sure we received good grades so we could try to fund our own education through scholarships and to help her with some of the burden of putting three kids through college. We started working as soon as we could so we could help out as much as possible. Ultimately, we all three attended and graduated from the University of Wyoming.
My mom was my hero because she took what could have been a bad situation and not only made it good, but made it exceptional. We had the best childhood growing up and I learned so much about what it means to be strong and resilient from her.
So, let's fast forward to 1985. I was 21 years old and I had just graduated from the University of Wyoming with a Bachelor of Science Degree in Finance. I always dreamed of working on Wall Street in New York, but instead, 40 South Center Street in Green River tugged at my heart strings and that brought me back home.
I had met a young man in college but when I came back to Green River, that put us in a long-distance relationship and I really didn't know what I wanted to do, so I decided I would live with my mom and look for a job. My mom kept telling me to apply at the hospital, but I didn't know what I could do there with a finance degree. So, I applied there and elsewhere and started interviewing. As I kept trying to find the perfect job, I started getting discouraged and worried if I would ever find what I was looking for. Every time I got in my car to go to an interview and turned on the radio, one song would always come on. No matter what time of day. That song was "Never Surrender" by Corey Hart. I felt like it was a sign and I promised myself that I was never going to give up and I was going to find that perfect job, so I stayed strong and I didn't surrender.
I maintained my positive attitude and I got a job at the hospital. My first job was sorting mail and posting payments on patient accounts, with a chisel and rock. Just kidding, but it was a long time ago :)
And guess what, they had a Chief Financial Officer position; my dream job. I knew that if I ever hoped to have a chance to have that job that I had to learn as much as I could, and I knew that I had to wait my turn. I loved every minute of my time there. It was so nice to have a mentor and such nice people to work with. I remember thinking that the hospital was the greatest place in the world. The people were so nice, they welcomed me from day one, we were doing great things and helping our patients. I decided the hospital was my future, that I wanted to work there for the rest of my career, and I settled in.
Fast forward again to 1990. By that time, the long-term relationship had ended and I met my future husband at the hospital.
Funny side note, when I met my future husband, I was 27 and still living with my mom. When he took me out on our first date I told him I had to be home by 10:00. Her house, her rules. But we survived the curfews and we eventually got married.
I was so happy as I moved through the milestones of my life; checking things off my list. My career was thriving, I was married, we bought a house and it was time for kids.
After four years of marriage, we had our first son. He was perfect.
Six years later, we had our second son and he was also perfect.
My life was a fairy tale and I was living the dream.
And then, on a cool fall day in October 2002, tragedy struck again, and my husband and I decided to go our separate ways.
All of a sudden, I found myself with a 6-year-old little boy and a 3-month-old baby and my marriage was over.
I was shell-shocked. This was definitely not something I expected or planned. When we divorced, I was only working part-time and all of a sudden, I had full-time expenses and two boys to raise. And just like that, I was a single mom. And I needed help.
Of course, I sought help from my mom. One day I went to her house and she was there with my uncle. I was crying beyond consolation and my uncle tried to comfort me. What happened next changed my life and my perspective on life forever. As I sat there crying, my mom looked me straight in the eyes and said "stop crying right now. You have two boys to raise and you have to go to work and take care of those boys." She told me that she would help me but that I needed to help myself and I needed to be strong and never give up. She helped me open my eyes and focus on what was important. I could see and think clearly and I knew I had my marching orders. Take care of my boys, go to work and do a good job, and never give up. Those were my priorities.
And I've been doing exactly what she told me to do ever since that day.
But please don't get me wrong. There is no way that I could have done this alone. I needed help. I have to give credit to the people who helped me, because without them, I would not have made it and I honestly can't say how things would have turned out. I had the help of my sister and my mom, who I regard as angels on this earth and who helped me in every way possible. They helped me and my boys get through the hardest time of our lives. Without their help and support, I would have never made it. I credit them with my success and with my boys' success because they were the bridge that I needed to get me and my boys to where we are now.
And of course, I also met my boyfriend, who would freak out if I called him an angel, but I have to give credit to him also, as he was instrumental in helping me with my boys and supporting me in every way.
They say it takes a village to raise a child and it's true. I am eternally grateful to my support group; my mom, my sister and her husband, my brother, my uncle and Garry for all their support in helping me raise my boys, and there is no way that I could have done it without them.
I watched my mom work so hard to support us, so it was easy to follow her example. I was, and continue to be devoted to taking care of my boys and to raise them the same way I was raised, to be respectful, humble, grateful and kind. I stress the importance of higher education to them and they are embracing that. I am teaching them to work hard and to learn from everything and to never give up.
So, let's fast forward again to 2010, my 25th anniversary at the hospital. The Chief Financial Officer job was available and I applied for the position. My boys were 14 and 8 at the time and I sat them down one day and I asked them what they thought about me applying for the position. I told them that it was a big job and I would need their support and their help if I got the job. They agreed and encouraged me to pursue my dream. I felt like I scored three times that day. I got the job, I showed them that hard work, perseverance and commitment pays off and I knew then that someday, they will support their wives and daughters to pursue their dreams. For that, I am very proud.
Please let me tell you a little more about my boys. My then 3-month-old baby is now 20 years old and a junior at the University of Wyoming studying Mechanical Engineering. In addition to his 18 credit hours, he plays baseball for the UW club team, he has a researching job and he also has a tutoring job, because he loves helping people. My then 6-year-old little boy is now 26 years old and an attorney working at a law firm in Washington, D.C. When he applied to law school, he wrote in his application essay about how he acknowledged the help and support he received from me and my support group, and how he also wanted to help people and give something back. He wrote that by being an attorney, he could do just that, by becoming a voice for those who don't have one.
So, those are the cliff notes of my life stories, and I tell you all of this because I want you to see that being or becoming a single mom sometimes just happens. And it's OK. Every mom wants the best for their children, but becoming a single mom is sometimes unexpected and unplanned and very often takes you by surprise. And it most definitely leaves you feeling financially, emotionally, physically, and mentally drained. And sometimes all we need is a bridge, a crutch, a little help from our friends to help get us back on our feet again so we can help ourselves and our kids succeed. And it's hard to do this alone, and that's why I believe in and support The McKenzie Home, because they will be that bridge, that crutch, that help from friends that single moms need.
I want to share another quote with you because it speaks to the strength that is needed to take on a hardship head on and overcome it. C. JoyBell says "The strength of a woman is not measured by the impact that all her hardships in life have had on her; but the strength of a woman is measured by the extent of her refusal to allow those hardships to dictate her and who she becomes."
And sometimes to overcome these hardships, we need help. So, let's go back to our word philoptochos. It also comes from the Greek word philanthropy, which translates to the "love of mankind" and refers to charitable acts or other good works that help others or society as a whole. It can include donating money to a worthy cause or volunteering time, effort, or other forms of altruism. Isn't that lovely? And isn't that what we're doing here, tonight by supporting The McKenzie Home and single moms and their kids? Helping others and also, in turn, helping society as a whole.
I hope I have stressed enough the importance of never giving up. We have hard times in our lives, but we can't let those times define who we are. Sometimes all we need is just a little boost and a little help. To all the single moms out there, you may be single but you are not alone. Single moms just need a bridge, a place to transition, just a little help and they will figure it out, because they want their kids to succeed. The McKenzie Home offers exactly that, a place for single moms and their kids to transition so they can catch their breath, get the help they need and get their feet back on the ground and start walking toward their future.
Please don't forget that as we go through life, we are constantly writing the pages of our story and one part of our lives doesn't define or dictate who we are, nor does it tell the whole story.
On that note, I will leave you with my last quote from Empowered Single Moms, by S.C. Lourie, "Breathe darling, this is just a chapter. It's not your whole story."

Debra Moerke with The McKenzie Home