Sweetwater Memorial is StormReady
Hospital is recognized for severe weather preparedness
Rock Springs — Memorial Hospital of Sweetwater County has been deemed StormReady by the National Weather Service.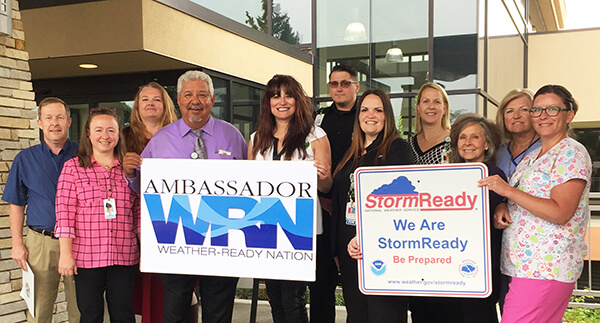 "The hospital has done everything it can to be ready for severe weather," said Tim Troutman, warning coordination meteorologist with the National Weather Service in Riverton.
He met with Sweetwater Memorial staff on Tuesday to talk about severe weather preparedness and to present CEO Irene Richardson with a StormReady certificate, awarded for enhancing public safety by promoting the principles and guidelines of the Weather-Ready Nation program in the hospital's severe weather safety and awareness plans.
"It's not a matter of if in your area, but when," Troutman said. "In central and western Wyoming, Sweetwater and Natrona counties have recently had more tornado events than any of the other counties in our 11-county warning area in central and western Wyoming.
"Due to the frequency of severe weather in these areas, it was decided to work with the hospitals in both of these counties first involving the StormReady initiative," he said. "Your hospital has been very proactive."
Here's what it takes to be officially StormReady:
Establish a 24-hour warning point and emergency operations center
Have multiple ways to receive severe weather forecasts and warnings to alert the patients, visitors and employees
Create a system that monitors local weather conditions
Promote the importance of public readiness through safety and preparedness seminars
Develop a formal hazardous weather plan, which includes training severe weather spotters and holding weather-related emergency exercises.
Troutman was able to attend Sweetwater Memorial's tornado readiness exercise in June, and was "very impressed" with the event.

"Your staff is very prepared with safe places and backup locations," he said.

Troutman also praised MHSC Security Director David Beltran and the emergency management team for all it does to ensure that the hospital's staff, patients and visitors are safe in the event of severe weather.

"We are proud to recognize this achievement by proclaiming you 'StormReady,'" he said.

The StormReady program is part of the National Weather Service's working partnership with the International Association of Emergency Managers and the National Emergency Management Association. The StormReady recognition will expire in three years, after which the hospital will go through a renewal process.
For more information, go to: