Meet the Team: Jubal Larimore
Category: Community
Posted On:
Written By:

Deb Sutton, Sweetwater Memorial Marketing Director
Meet the Team: Jubal Larimore, Security Officer
A bank of screens fills a wall in the Security Office at Memorial Hospital of Sweetwater County.
On many days, you'll find Jubal Larimore keeping an eye on the comings and goings in areas inside and outside of the hospital or walking the halls checking in with various departments, patients and visitors.
He's been a Sweetwater Memorial security officer for four years. The office is in the Emergency Department. Larimore likes that it gives him a daily chance to see people leaving the hospital feeling better than when they arrived.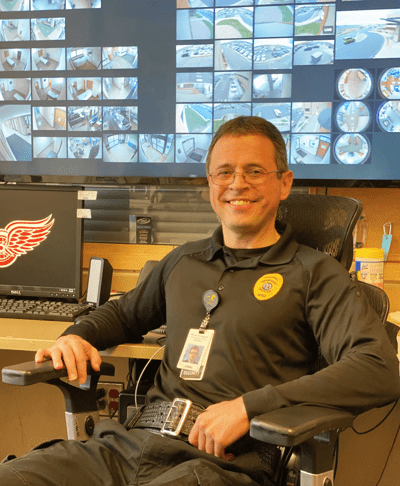 "As a security officer, you see everyone who comes into the Emergency Room," he said. "Some are in a really bad way. It's uplifting when they walk out feeling better."
Larimore grew up in Green River, but now lives in Rock Springs. Prior to working at the hospital, he spent 25 years with the Rock Springs Police Department.
He was 20 years old when he joined the force. "I wasn't old enough to drink, but did bar checks," he said. "I was the only one at the police academy who couldn't go have a drink after work."
Over the years he worked as a detective, a training officer and a member of the SWAT team. He was assigned to the Wyoming Division of Criminal Investigation as a special agent for two years. He retired from the RSPD as a patrol sergeant.
"I enjoyed being on the streets the most," he said. "At any moment, something exciting might happen. At any moment, I would be able to help someone. It was always something different. There was always something new to learn."
When it was time for a change, Larimore thought working at the hospital would be similar – a chance to protect and help people. He said his hunch was right.
"I remember when I applied for the job. I told them working security for the hospital is a lot like police work. The job is to protect people and property," he said. "It gives the job meaning.
"It seemed like it would be a positive place to work and a positive environment with people who are really at the top of their game," he said. "I'm working with people who are kind, successful, smart and respectful. The people up here are so nice.
"There aren't many places that go out of their way to make a positive work environment," Larimore said. "The hospital does that."
Larimore and his wife have two grown children. He spends his free time lifting weights and watching movies. He has a Bowflex, free weights and speed weights he uses at home. "I'm about to turn 50," he said. "I want to feel better about it, and this seems like it will help. I want to feel good and healthy."
As for movies, he likes action and drama, along with the occasional comedy. He gave "Ford vs. Ferrari" two thumbs up.
MEET THE TEAM is a feature highlighting the more than 500 people who work at Memorial Hospital of Sweetwater County. To find out more about this weekly profile and area healthcare information, go to sweetwatermemorial.com.