COVID-19 vaccine arrives
Happy to have received the Pfizer-BioNTech COVID-19 vaccine, a few of the doctors ham it up in the hallway at Sweetwater Memorial. They are, from left, Hospitalist Dr. Michael Neyman, Anesthesiologist Dr. Neal Asper, Anesthesiologist Dr. Steven Croft, and Radiologist Dr. Fred Matti.
About 130 hospital workers vaccinated on Tuesday
A COVID-19 vaccine has arrived in Sweetwater County.
The Wyoming Department of Health issued 975 doses of the Pfizer-BioNTech vaccine. Vaccination of frontline workers at Memorial Hospital of Sweetwater County began immediately.
"We did not want to wait," said MHSC Pathologist Dr. Cielette Karn. "There are people who want to get vaccinated now. There are really a lot of people wanting to get going on this."
MHSC ICU Nurse Weston Turner was the first person in Sweetwater County to receive the Pfizer-BioNTech COVID-19 vaccination.
"I feel honored to be part of such a momentous occasion," Turner said. "It's all part of helping in the process of finding a cure for COVID."
Turner, who has worked for the hospital just three days, said the shot didn't hurt, but "it would have been better with a beer."
Tiffany Uranker Webb, an emergency room nurse who has worked for the hospital for 11 years, said she was getting the vaccine because of her mom, who has cancer.
"I think everyone needs to get vaccinated in order to keep everyone safe," she said. "If you can be part of the solution and not part of the problem, that's best."
Urologist Dr. Cody Christensen, the first doctor in the county to receive the vaccine, said he wanted to be vaccinated as soon as possible in an effort to keep his patients safe.
"I see a lot of patients every day," he said. "I'm doing this mainly for their protection."
Surgical Technician Jessica Macy said making the decision to be vaccinated was a little nerve-wracking at first. She said social media has spread a lot of untruths, and she knew she wouldn't find the answers there. Instead, she turned to her colleagues.
"I looked to my fellow co-workers, talked to them and decided to do it," she said. "It's very exciting."
Christensen said he would tell anyone leery of receiving the vaccine to follow the science and the data.
Medical Assistant LeAnn Randall said that's exactly what she did. After looking into the science behind it, she wasn't at all afraid to roll up her sleeve.
Registered Nurse Sarah Christensen and Anesthesiologist Dr. Steven Croft both said they have not had COVID-19 and wanted to get the vaccine as soon as possible.
"I've gotten this far, give me the vaccine," Sarah Christensen said.
They were among the first in a long line of people at Sweetwater Memorial who lined up Tuesday afternoon to get the first of two doses of the vaccine. Within about four hours, about 130 hospital workers were vaccinated.
The vaccine arrived late morning Tuesday in a specially designed, temperature-controlled thermal shipping container. Pfizer uses dry ice to maintain the recommended storage temperature conditions of minus 70 degrees Celsius (minus 94 degrees Fahrenheit) for up to 10 days unopened. It is now being stored in an ultra-low-temperature freezer at Sweetwater Memorial.
Of the 975 doses received, 75 percent are set aside for Sweetwater Memorial, which also will coordinate a vaccination schedule with agencies such as EMS, fire and police personnel. The other 25 percent are for use by Castle Rock Medical Center and Sweetwater County Public Health, which also is coordinating a vaccination schedule with other agencies.
"There is coordination between entities that everyone in that 1A group is taken care of," said Public Health Director Kim Lionberger. "We also will coordinate a vaccine schedule as we move into the next phases."
Sweetwater County also expects to receive a shipment of Moderna vaccines. Both the Moderna and the Pfizer-BioNTech vaccines require two shots: a priming dose, followed by a booster shot. The interval between Moderna doses is 28 days; for the Pfizer vaccine, it's 21 days.
The Centers for Disease Control and Prevention have more information on the Pfizer-BioNTech and Moderna COVID-19 vaccines at cdc.gov. Pfizer has provided an information fact sheet at https://www.pfizer.com/news/hot-topics/covid_19_vaccine_u_s_distribution_fact_sheet.
For information on local vaccine availability and planning, go to www.sweetwatermemorial.com/coronavirus-covid-19-/, or follow Sweetwater Memorial and Sweetwater County Public on Facebook.
For more photos, check out the photo gallery.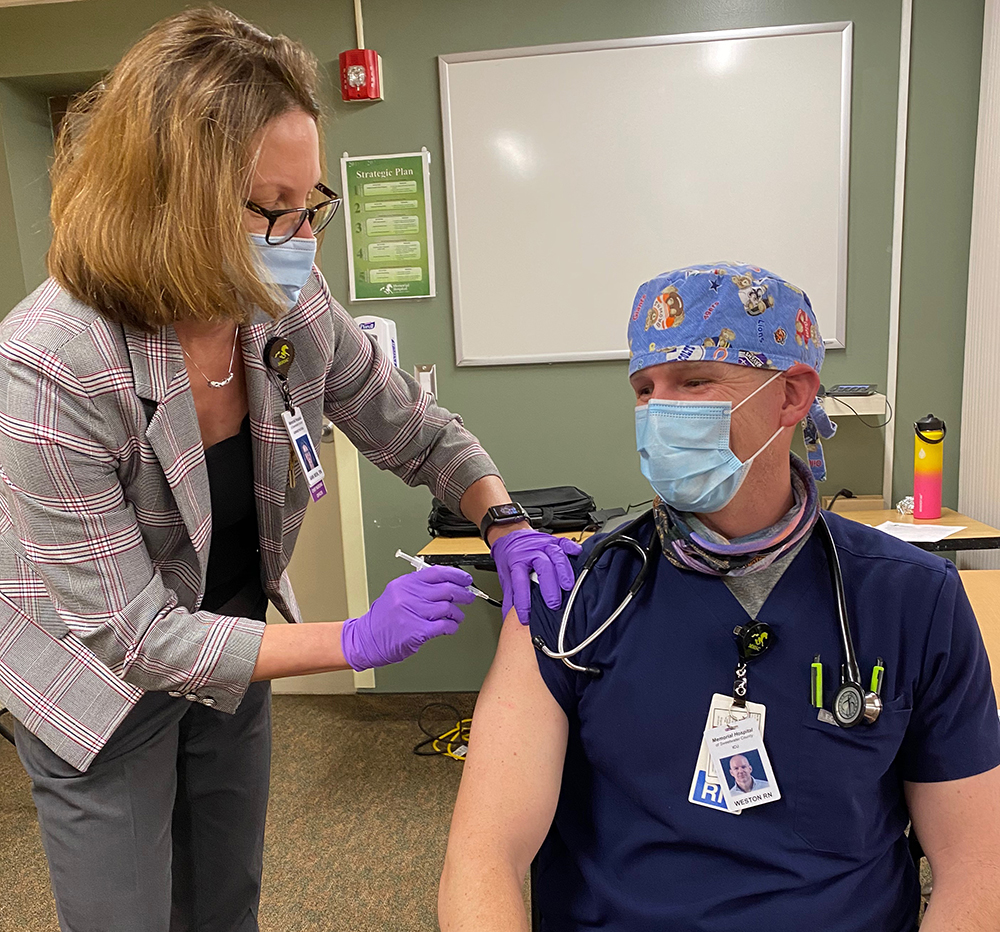 ICU Nurse Weston Turner on Tuesday received Sweetwater County's first dose of the Pfizer-BioNTech vaccine from MHSC Chief Nursing Officer Ann Clevenger.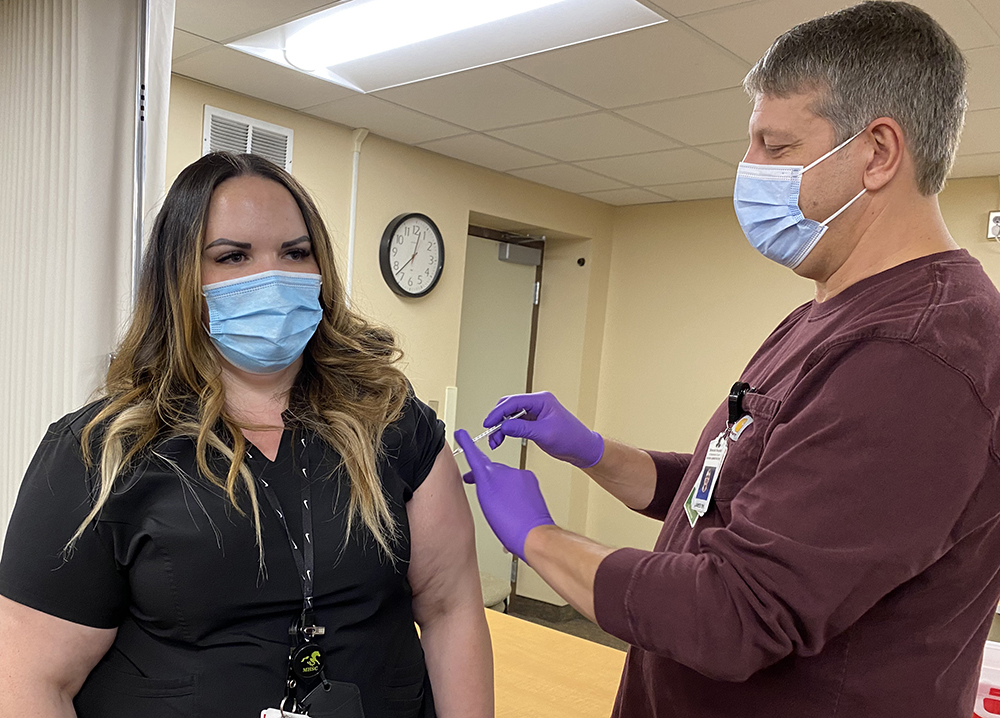 Sweetwater Memorial Emergency Room Nurse Tiffany Uranker Webb received Sweetwater County's second dose of vaccine from MHSC House Supervisor James Hickok.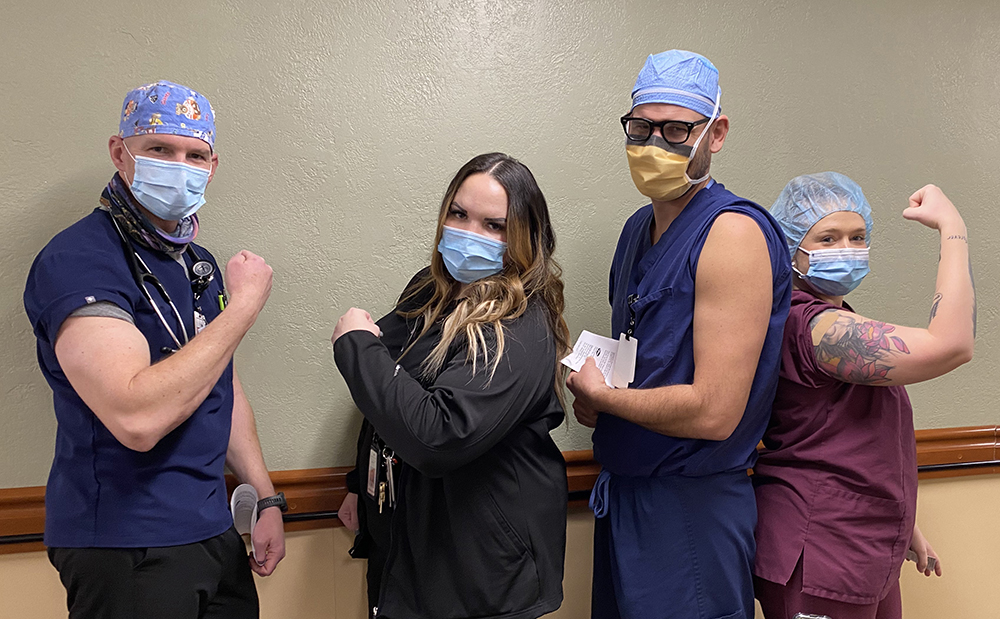 Proud to be vaccinated, the first four recipients to receive the vaccine flex their muscles. The first to be vaccinated was ICU Nurse Weston Turner; second, ER Nurse Tiffany Uranker Webb; fourth, Dr. Cody Christensen; and third Surgical Technician Jessica Macy.